Start collecting deposits with credit cards today
Get your money fast by collecting a deposit on your reservations and Stripe will automatically collect the credit card information, charge the guest's card and deposit the money in your bank account a few days later.
Why Stripe?
CabinKey™ has partnered with Stripe to provide quick credit card processing. If you need another payment processor, please contact CabinKey™ to discuss some options.
Sign Up for Stripe
Ensure you have CabinKey™ Booking enabled.
Go to Settings > Booking
CabinKey™ Booking should be the selected action.
Go to Payments
Click the Sign Up Now button to get started (new Stripe customers)
OR for existing Stripe customers, select Connect Existing
Stripe Application
This involves opening an account with Stripe. It will prompt you for some information about your business and banking information.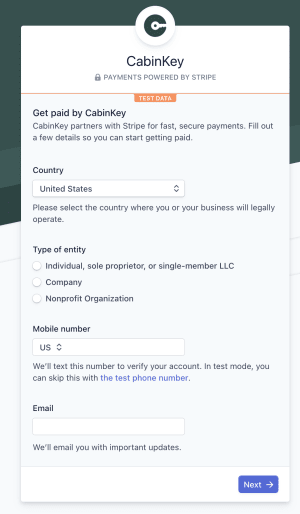 Click to enlarge
Payments