Record a Payment
Keeping track of payments
Record payments for a reservation
When you receive a payment on a guest, you can record it in CabinKey™.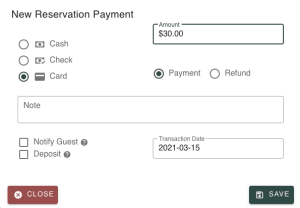 Click to enlarge
Recording a Payment
Go to Reservations > [SELECT RESERVATION].
Click the add Payment button.
The outstanding amount is pre-filled in the Amount field, but can be edited.
Select CASH, CHECK, or CARD (credit card).
Payment is selected by default. Optionally, you can choose to record a Refund.
Add a Note if you choose.
Select Notify Guest of Payment, if you want CabinKey™ to email the guest a copy of the payment details.
Select Deposit to classify payment as a deposit.
Today's date is pre-filled in the Transaction Date field, but can be changed.
Click "Save".
Delete a Payment
From the Reservation page, go to the Payments selection and click the red trash can on the payment line.
Or navigate to the Payments page and you can find the payment to delete.
You cannot delete payments received through Stripe. Contact CabinKey™ if you need to delete a Stripe payment