Search Engine
for multiple properties
Perfect for Lake Associations, Chamber of Commerce, or any group of independent businesses.
Booking Search Engine
Create your own private Expedia / AirBnB / VRBO
A Success Story
Lake Vermilion Resort Association was unhappy with their search solution.
For years, the association used a search solution on their site that none of their members liked. They looked for a solution that met their needs, but were unable to find a suitable service. They wanted a search engine their visitors could use to search across all 40 independent resorts, lodges, houseboats, campgrounds, and hotels. Since there were so many different types of properties in the Lake Association, accommodating all their independent businesses was going to be a challenge.
Lake Vermilion Resort Association partnered with the software development firm Northern Voyageur, Inc. to create a search and booking engine from the ground up. This took several years of collaborative effort by the many resorts and the developers at Northern Voyageur, Inc., eventually, they produced a product now known as CabinKey™.
Today, the vacation rental properties on beautiful Lake Vermilion enjoy a unified search solution that is powerful enough for any property.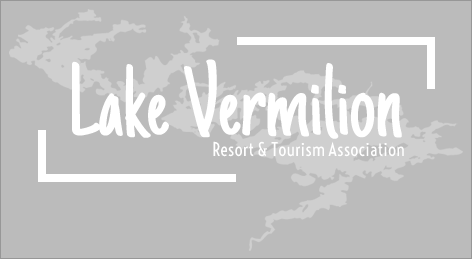 Resort owners on Lake Vermilion have had the opportunity to try several reservation systems. While all these systems work, none have worked as well as CabinKey Reservation System. The reason why CabinKey has accelerated above and beyond any other reservation structure, is because it was developed specifically for resorts. The other reservation platforms are modified from the hotel reservation archetypal platform to function in a resort model. While these reservation systems work, there are many limitations. Most resorts have minimum stays, hotels typically are for one-night layovers. Moreover, resorts offer amenities such as boat rental, fishing guides, meal plans and so on that your typical hotel don't. CabinKey has solved all these issues. It is user friendly! This reservation system can be modified by the resort owner and not by some software technician, as no two resorts are the same. A resort owner can add or remove amenities as they choose. CabinKey is accessible on mobile for the resort owner who is on the go. The greatest benefit CabinKey offers is online booking and payment which is linked to your financial institution. The resort owner doesn't have to take valuable time answering the phone to book a reservation if he is busy with other projects or wants to spend valuable time with his/her family. Remember most reservations take place after hours. If you are a resort owner, Lake Vermilion Resort & Tourism Association strongly recommends CabinKey for your reservation system. You won't be disappointed!
Powerful Search
Across multiple properties
Relevant

Showcase availability
Open listings are shown at the top. Listings are randomized, providing equal exposure to all available properties.
Beautiful property listings boost visitor engagement and increase booking conversions. Photos, descriptions, amenities, and price ranges give the visitor a glimpse into each property.
Integrated occupancy calendar for each unit fills vacancies.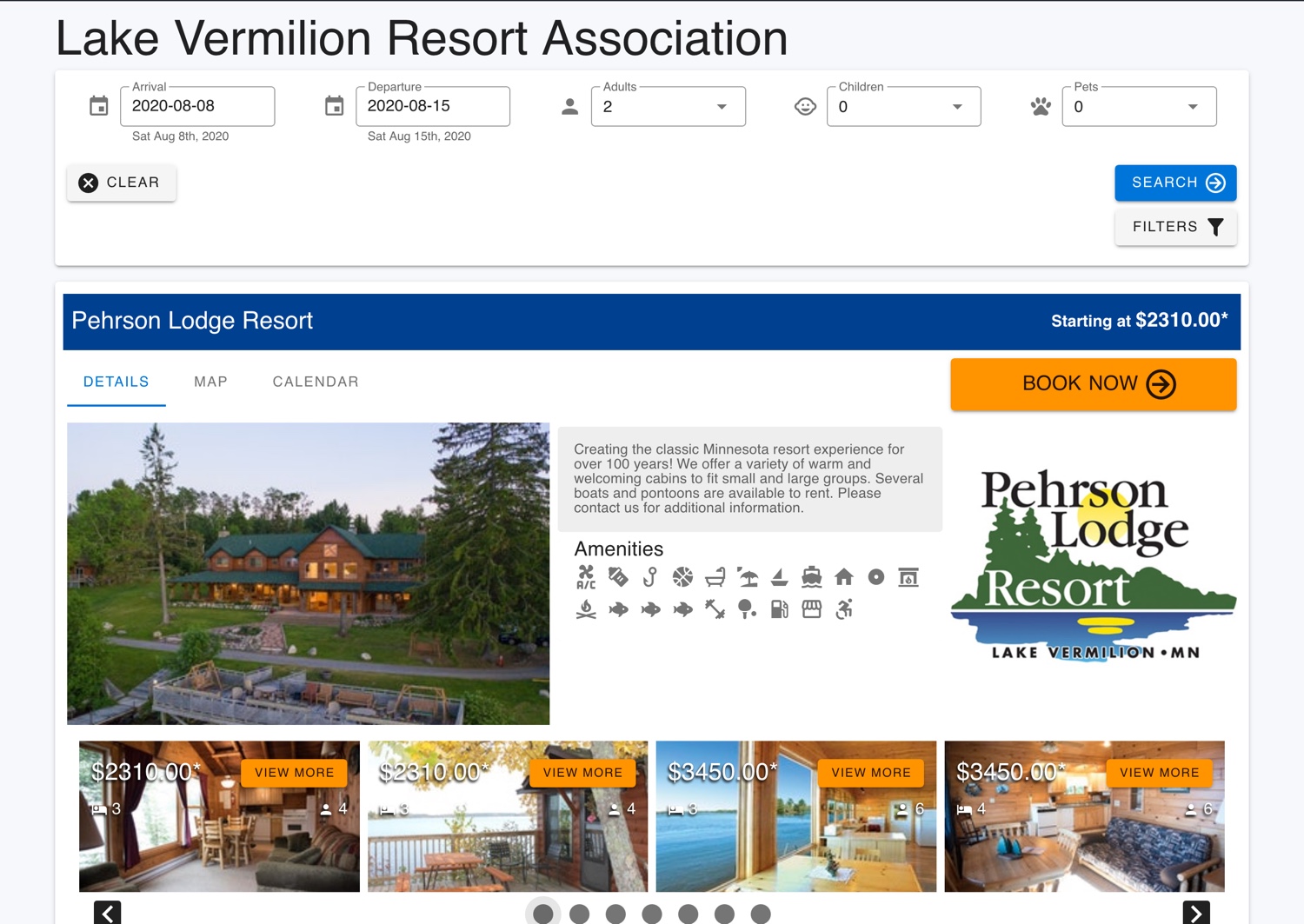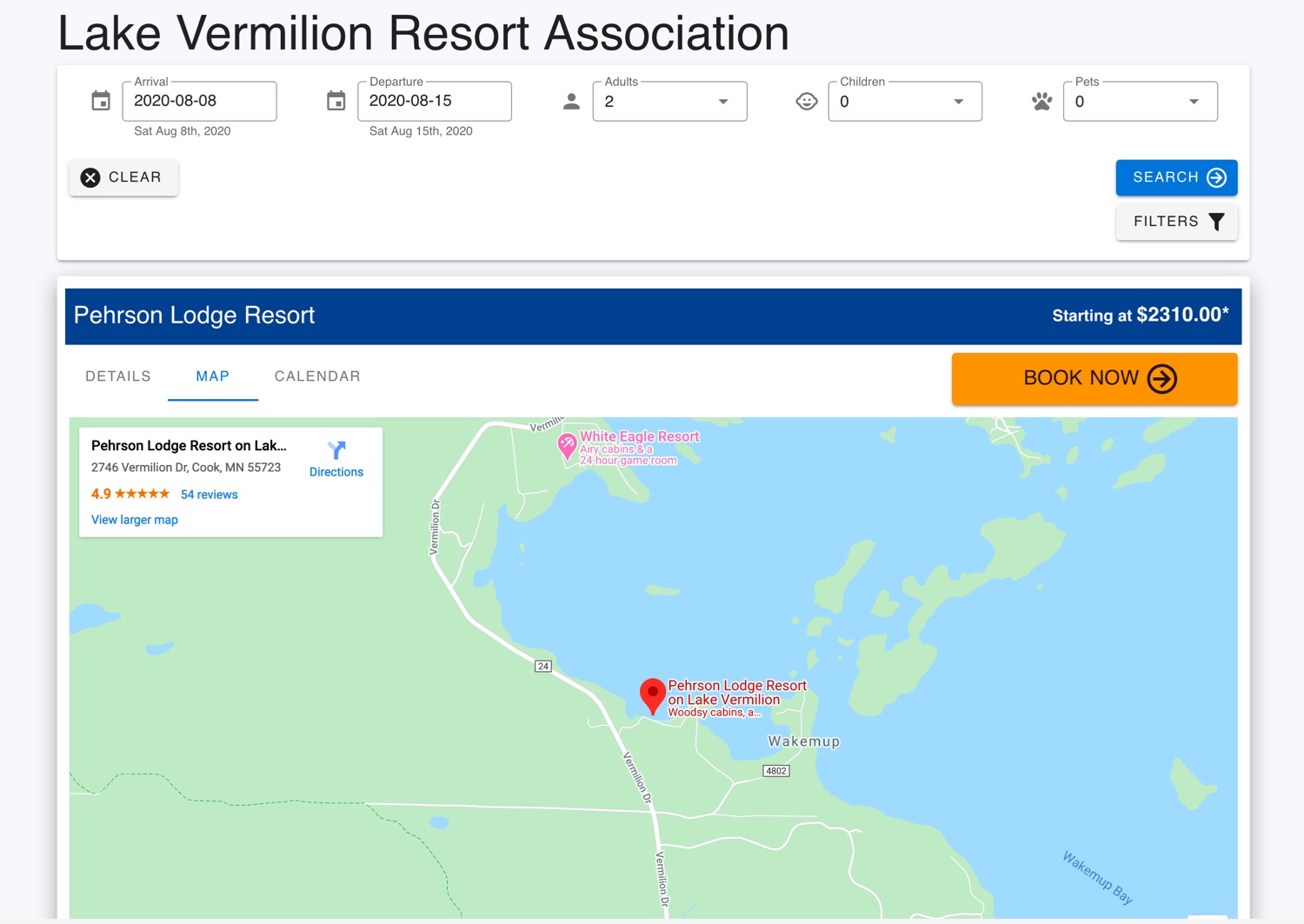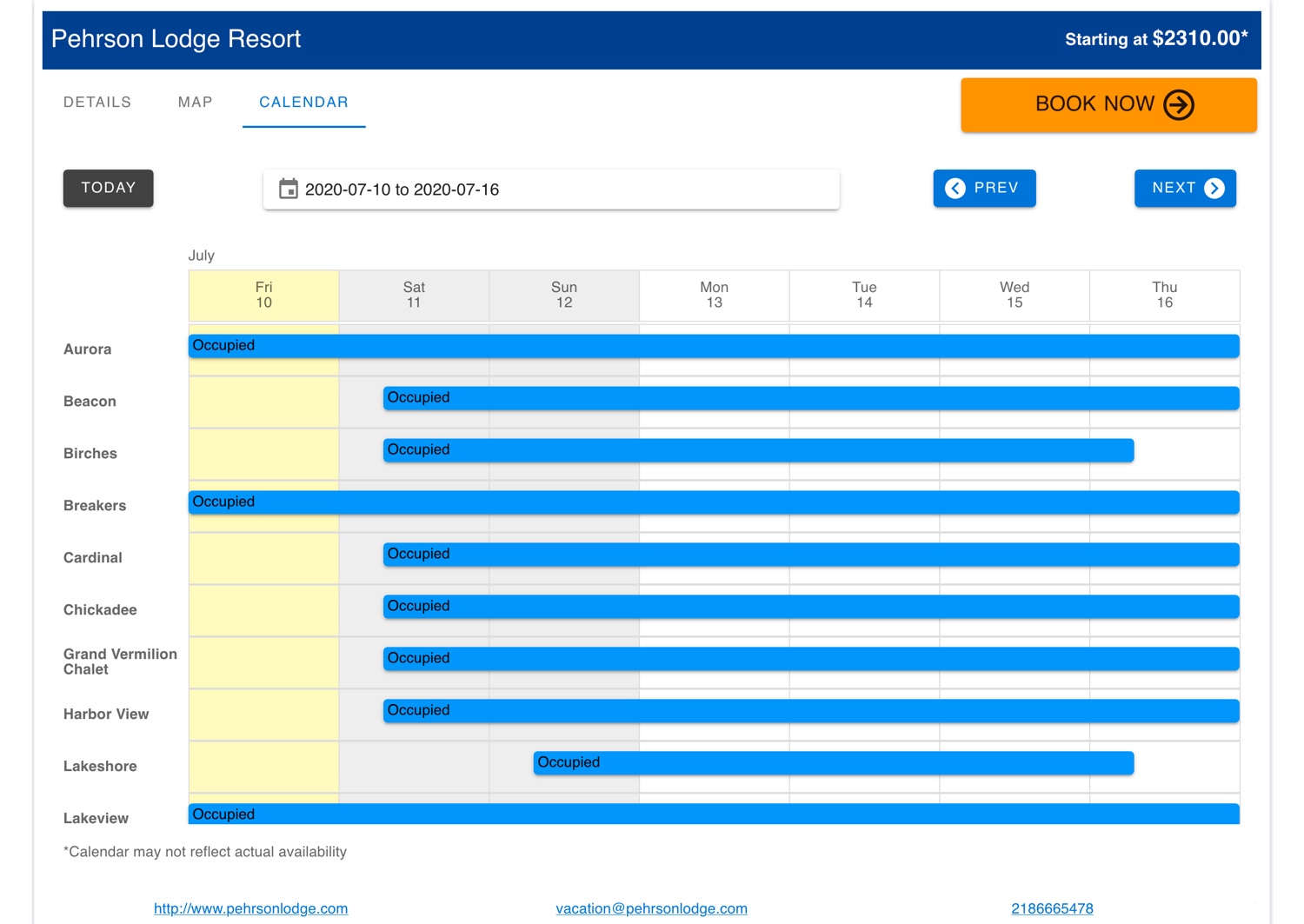 Options, options, options
Each property can customize their listing in hundreds of ways
Amenities
Choose from a long list of amenities to display for each property.
Photos
Each listing has photo slide shows for both properties and rental units
Availability
Show real time availability for each rental unit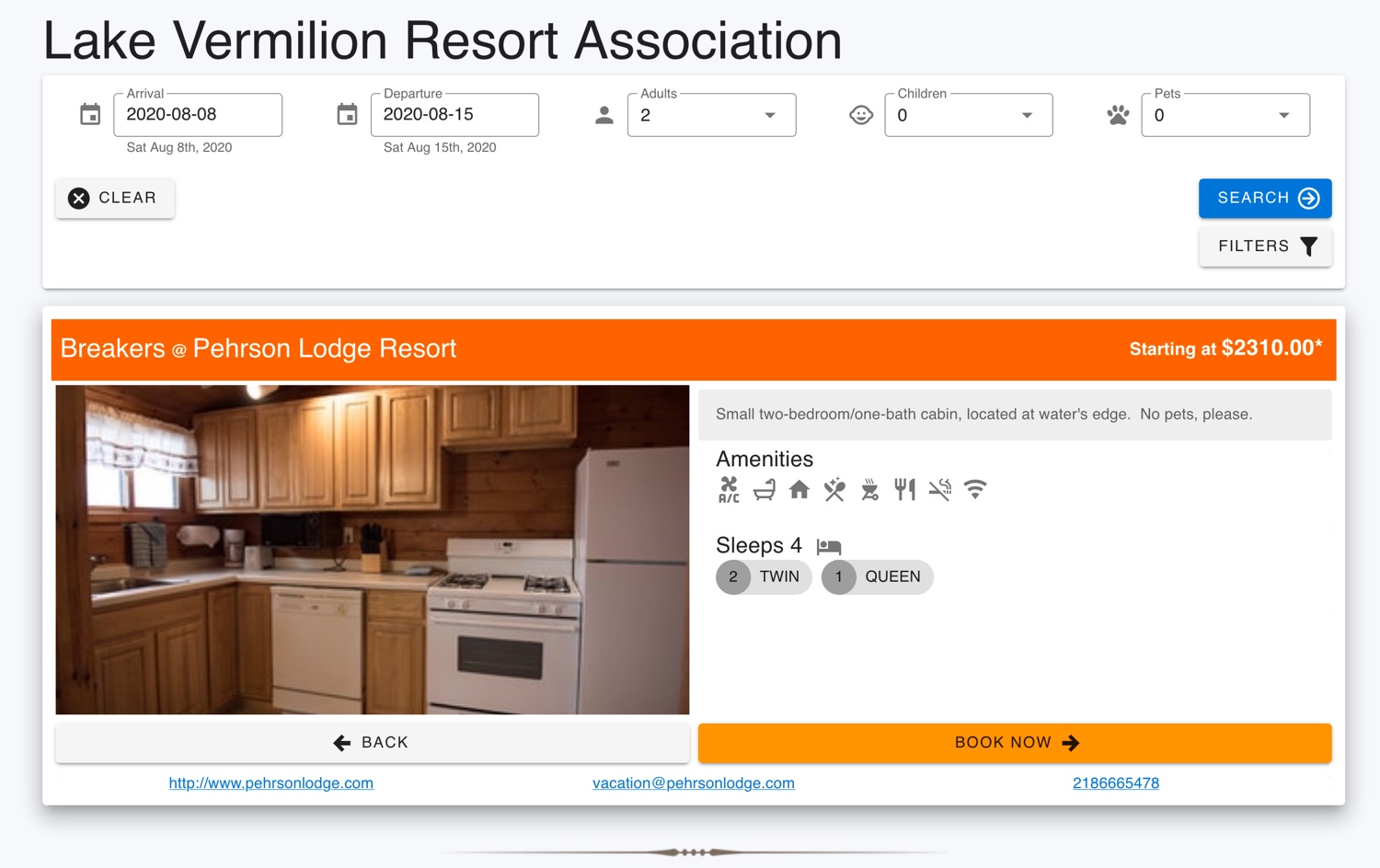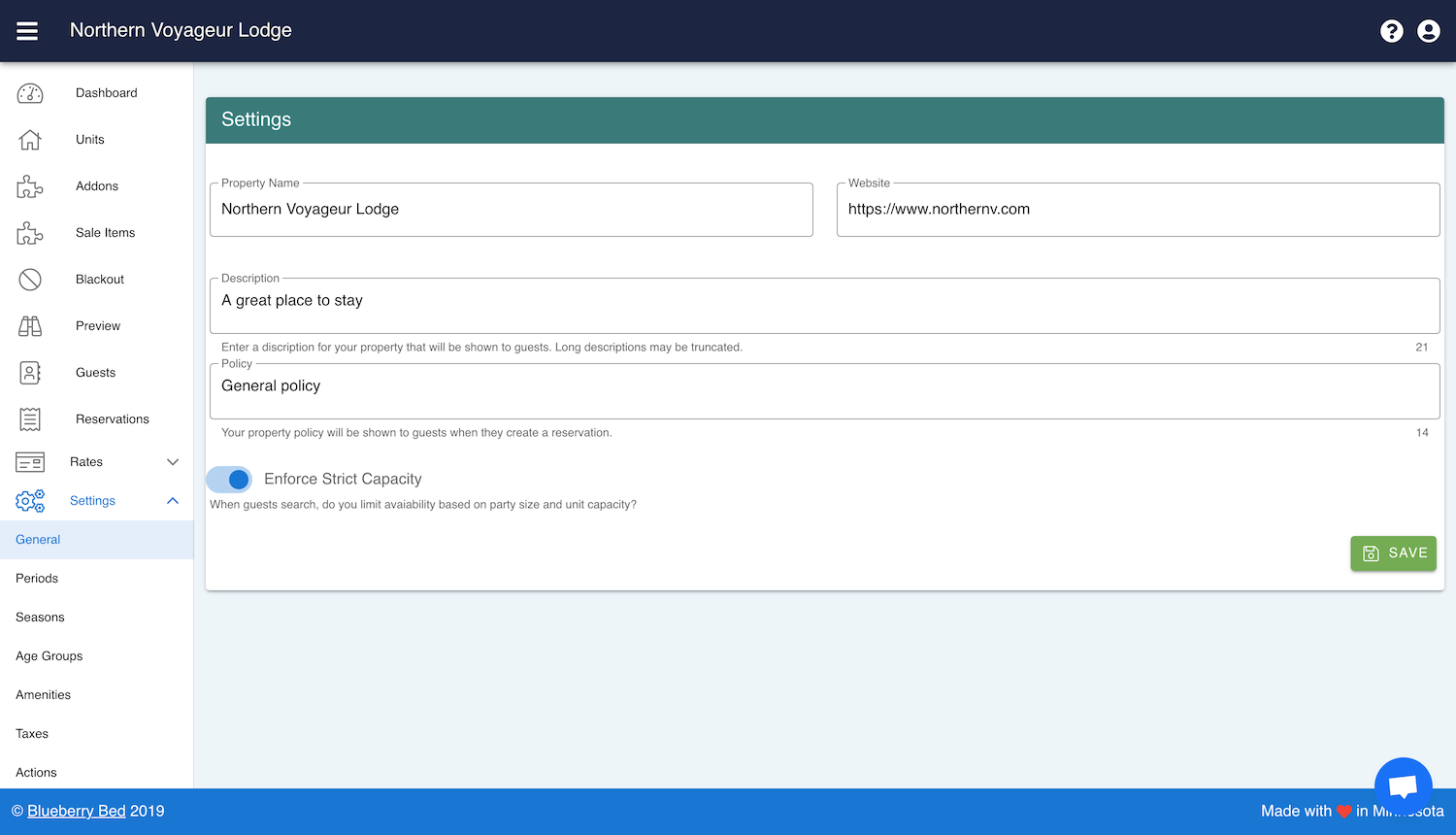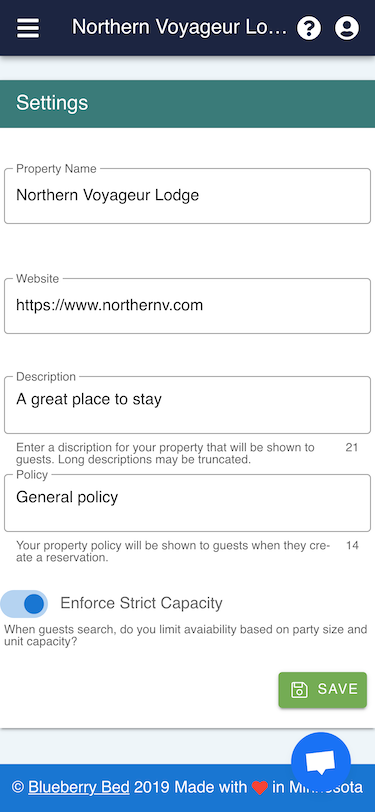 Desktop or Mobile
The Dashboard and the Search web apps look and function great on Desktop or Mobile
We support all the latest browsers. If you're out and about, you can still manage your property with your phone's browser. Your guests will appreciate the flexibility to have the same experience no matter what device they may be booking on.
Fully Customizable Booking
Each property controls where guests are directed for booking
Email
Properties can choose to receive an email with a guest's booking request. Email will include name, address, phone number, email address, and desired booking dates and units
Booking Engines
Properties can redirect guests to the booking engine of their choosing; Lodge Vault, InnRoad, RezStream, RezNexus, AvailabilityOnline, Lodgix, Lodgify, Cloudbeds, and more .
Message
Properties can choose to show a custom message to the guest
Website
Properties can redirect guests to specific pages on their own website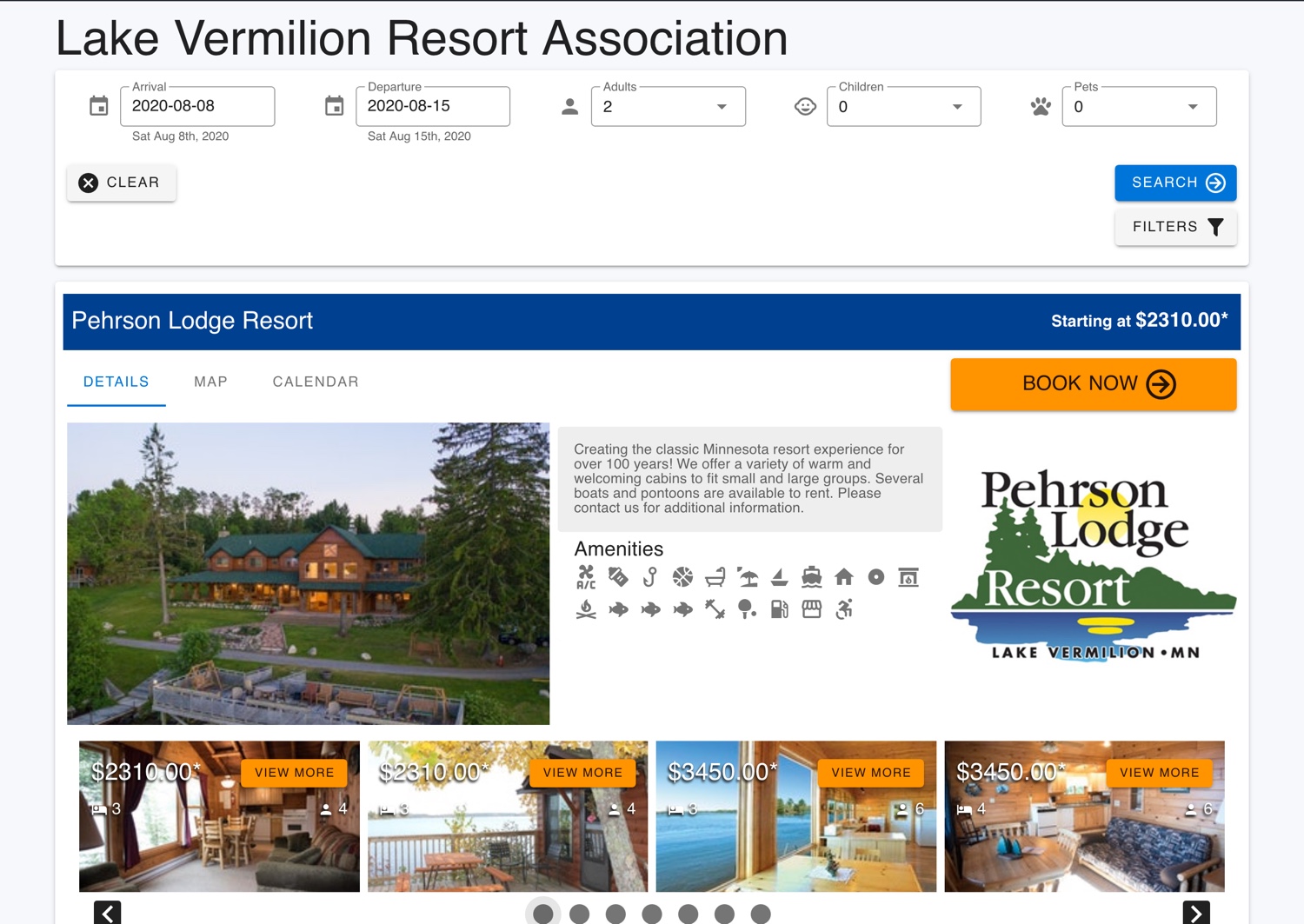 Service all your properties with one powerful availability search engine
Why wait? Start now!
Schedule a Demo