Point of Sale
Sell items at your property
POS (Point of Sale)
Selling an item to a customer or guest?
CabinKey™ provides a basic Point of Sale solution to handle selling various items at your property, such as gas, cloths, tackle, or bait.
Go to POS in your CabinKey™ account.
Select sale item(s) being purchased from list
Item(s) will be added to invoice box on the right
Change quantity of item(s) by clicking - or + in the Qty column

Alternate option: Click on the number field, then enter the quantity in the pop-up field

Select customer type by clicking on the applicable button:

Walk In: Brings you to a general "Walk In" customer page
New: Brings you to a page to enter new guest information

Fill out new guest information and click Create Guest and Reservation

Existing: Brings you to a page to search for current and past guests and reservations

Search for and select applicable guest

Click Add Payment button one on the walk-in or guest reservation page

The outstanding amount is pre-filled in the Amount field, but can be edited
Select type of payment: Cash, Check, Card (credit card), or Gift Card
Payment is selected by default
Add a Note if you choose
Select Notify Guest of Payment, if you want CabinKey™ to email the guest a copy of the payment details
Select Deposit to classify payment as a deposit
The current date is pre-filled in the Transaction Date field, but can be changed
Click Save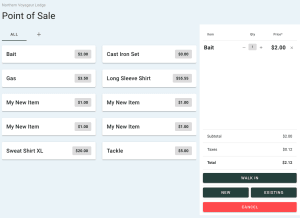 Click to enlarge
Add a New Item From POS Screen
Go to POS
Click the + button
This will bring you to the Sale Items settings page
Click Add Sale Item button
Add a Name and Price
Add a Description if you choose
Set the Status from the dropdown menu
Toggle the Purchase Online on or off depending on whether guests are allowed to purchase the item during booking
Click Save
See Sale Items for additional instructions relating to tax, groups, and more.